In effect, job ads are the organisation's CV or cover letter that we share with job seekers. Job ads are often the first opportunity job seekers have to form an impression of us and may be enough to successfully engage a candidate or completely deter them from applying.
Just as we would expect candidates to carefully craft their resume or CV, writing an effective job ad also requires thought and preparation. We believe that investing time in job ads will pay off by attracting high-calibre candidates who are interested in, understand and are suited to the role.
Follow these steps when creating a job ad:
1. Describe the opportunity
Job title and key information
Accurately describing the role starts with entering correct information into your requisition. The job title and table of key information displayed at the top of job ads on I work for NSW is prefilled from the requisition. Filling out these fields correctly will ensure the key information is right in the job ad.
Completing the 'external description' field
Getting this section of the job ad right is crucial. Candidates want to know whether they can picture themselves in the role, so ensure that this section provides a realistic and engaging preview of the role and the requirements of the job.
Introduction
When writing the job description note that the first 20 words (approximately) show as the 'teaser text' in the job list when job seekers search or browse for jobs.
You can use this as a tool to grab the attention of job seekers and entice them to read more about the role. Do this by writing an engaging introductory sentence or 2-3 short bullet points (noting that formatting will be removed for the teaser text only). Here is a good example from the Sydney Olympic Park Authority:

Your goal: To write positive and persuasive short paragraph or dot points (50–100 words maximum) describing the type of person most suited to the role, and the job's main benefits.
Desired job seeker reaction: "That sounds like me. Tell me more"
About us
When a candidate submits an application, they are not just applying for a job; they are applying to be a part of a team, an agency and the NSW public sector. From reading a job ad, we want them to gain a positive sense of the organisation's mission, its culture and personality. The Sydney Opera House has written a good 'about us' section:
About the Sydney Opera House
The Sydney Opera House embodies beauty, inspiration and the liberating power of art and ideas. It is a masterpiece that belongs to all Australians. Our mission is two-fold:
• We will treasure and renew the Opera House for future generations of artists, audiences and visitors;
• Everything we do will engage and inspire people through its excellence, ambition and breadth. We will strengthen our central role in Australia's life and identity.
For more information about the Sydney Opera House please refer to our website.
About the role
Tell job seekers exactly what the job involves, including the challenges, responsibilities, reporting lines. Don't rewrite the whole role description here but give an overview of what is required focusing on the parts of the role that are absolutely necessary from day one.
You do not need to include everything in the job ad. Providing links to additional information (e.g. role description, agency website, FAQs) is a good way of keeping the main message short and succinct.
Clearly state any essential requirements that you will use for screening.
What we can offer you
One of the primary aims of a job ad is to persuade the best and the brightest to apply for a job with us. In this section of the job ad we need to make it clear to candidates 'what's in it for them' and communicate some of the reasons why they should work for NSW (more about this in section 2). NSW Ambulance has answered the 'what's in it for them' question in their Communications Assistant ad:
What we can offer you:
• The base salary range for the Communications Assistant position is $53,310.85.
• Superannuation, annual leave loading and shift allowances
• Payment of salary during induction and training period (7 weeks)
• 5 weeks annual leave per year of service
• Generous salary packaging options and other fringe benefits
• Flexible working
• Opportunities for learning and development and Internal career progression
Tip on including flexible working in the job ad
Being specific about flexible working options can help to attract more applications. For example:
'Our agency believes in all roles flex, provided service delivery is maintained or improved. We believe this role can be done flexibly through:
Adjusting start and finish times
Working remotely
Job share
Part-time
Consider what form of flexibility might work for you, and let us know at the job offer stage.
How to apply
In this section, let candidates know what they need to do to submit an application -you will have decided this in the early stages of the recruitment process (see: Designing the application form).
Include any targeted questions from the application form in the job ad. This can help job seekers decide if they will apply for the role. It also allows them to draft their response without having to click through the application form.
It is good practice to inform candidates about the expected timeframe for the application process. This will help candidates to plan ahead and identify any adjustments they may need, which may be particularly important for attracting candidates with disability.
In addition, provide information about what you will be assessing (e.g. focus capabilities, knowledge and experience) and assessments being used in the recruitment process and if you are using a particular test, you may also want to say why it is being used.
Find out more
Include a link to the role description and to your organisation's website and also feature the details of a person (phone number and email address) that candidates can contact to find out about the role. Make sure the person is:
Knowledgeable about the role, capabilities, standards and other attributes required of suitable candidates
Readily available to answer enquiries during normal working hours
Receptive to enquiries from all sections of the community
Proactive in communicating information about workplace adjustments that can be made in the recruitment process.
Make sure you provide more than one way of contacting them e.g. phone and email to ensure this important function is accessible to all candidates.
Commitment to diversity and inclusion
To attract a diverse field of candidates your agency may routinely include a statement of commitment to diversity. Here is an example:
The NSW Government values diversity and is a proud employer of a diverse range of people. We are committed to reflecting the community we serve and creating an inclusive workplace for all people, where everyone feels valued. We encourage Australian Aboriginal and Torres Strait Islander peoples and people with disability to apply for employment with the NSW Government.
2. Engage and interest prospective candidates
A. Highlight the benefits and reasons to work for NSW
Be specific:
In everything you write, remember that "specifics sell". Giving details about your claims boosts your persuasiveness and credibility; omitting them can mean readers doubt what you say. Here's what we mean:
| Specific description | Generic description |
| --- | --- |
| Lead a team of over 70 people | Lead a large team |
| Report to the CEO and Board | Report to senior management |
You can see in these examples that the specific information is far more helpful than generic in helping job seekers understand what is involved in the role.
Tell them what they'll gain and contribute towards:
• Before: Provide occupational therapy to people with an intellectual disability
• After: Give help where it counts – improve life quality for people with an intellectual disability whilst growing your career
Use our employer brand messages:
The NSW Government's Employee Value Proposition encourages people to come and work for us. As part of this, we regularly communicate 6 key reasons to work for NSW. You can select one or several reasons and adapt them according to the needs of your job ad and your agency.
1. Make a contribution
Working for NSW is about more than just a job. It's about the people we serve. It's about building the future of our great State.
2. Join a workforce that values diversity
The strength of our workforce lies in its diversity. We are building a workforce that is reflective of the community we serve and creating an inclusive workplace, where every person feels valued and can contribute.
3. Explore new opportunities
As Australia's largest employer, working for NSW open up unparalleled career choice through the scope and scale of roles, projects and diversity of our people.
4. Be part of something bigger
Working for NSW means belonging to a network of clever, capable professionals who are thinking about and responding to the changing needs of our community.
5. Grow your career
Continual learning and development is a key part of enjoying what you do and moving forward in your career. We want you to be engaged and motivated in your role and that's why we're putting the necessary systems and processes in place to enhance workforce mobility.
6. Make time for what counts
We recognise our employees bring a diverse range of life experiences and responsibilities that also contributes to their expertise. We have a policy of supporting flexible working for managing these responsibilities, provided it maintains or improves service delivery. Talk to us about the flexibility you may need.
B. Ensure it is written and presented to a high standard
Candidates respond to adverts they understand, believe and feel included in. There are many ways to achieve this.
Be visual
If possible, include some of your agency's artwork, images or videos in your job adverts to help communicate the messages in your job ad. If you don't have access to this, try to paint a picture with your words and phrases e.g. want a career that helps others to grow?
Here are a couple of examples:
Justice: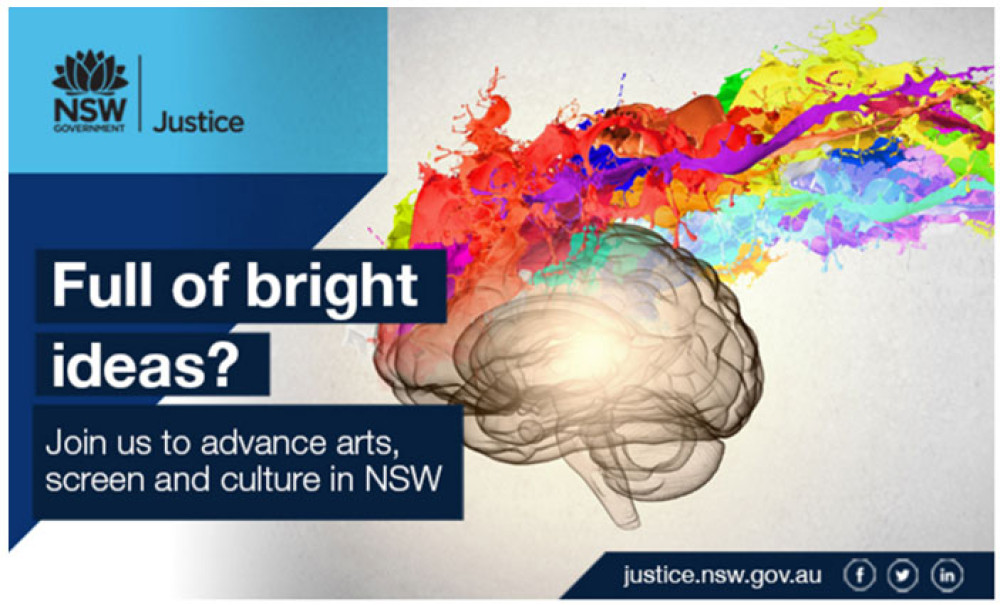 Be concise
• Use short, simple sentences or dot points and remove repetition.
Speak in the first person
• Using the first person e.g. saying 'you' instead of the third person e.g. 'the successful candidate' allows us to build a rapport with prospective candidates instead of appearing cold and detached.
Use plain English
• Write how you would speak and use language that is easy to understand. If someone has to read a job ad several times to understand it, they probably won't apply or, if they do apply, they may not understand what they have applied for.
• Organisational jargon and acronyms can be like an 'in-joke' if you are an outsider, so make sure any organisational terms are explained or avoid using them altogether.
Be empowering
• Consider including rhetorical questions at the beginning or end of the job ad that will help candidates imagine what it's like to do the role, for example: would you enjoy working in a team to improve the health of our rivers and wetlands?
• We want people to feel excited and motivated about working for NSW. Speak in an active voice and use words such as: drive, manage, own, create, build, accomplish.
Format the ad
• Ensure the fonts, sizes, colours, etc in your ad are consistent with the style used on I work for NSW. This makes it easier for people to recognise the branding and compare one job with another.
• Add subheadings to help readers scan your ad and jump to the bits that interest them most
• Without enough white space, your ad will look cramped and be hard work to read. Break up any dense blocks of text with paragraphs, bullet lists, or subheadings.
• Avoid using ALL CAPITALS – change to upper and lower case. Not only are 'all caps' hard to read, but they're perceived as shouting. Also, check you only capitalise proper nouns – e.g. "project manager" is a noun; "Sydney" is a proper noun.
Be inclusive and non-discriminatory
• Allow flexible formats
• Provide more than one way to respond to, and access, job information.
• Ask for the same information from all candidates. It is discriminatory to require candidates with disability to provide information which other candidates are not required to provide, unless the information is required to determine the candidate's ability to perform the inherent requirements of the role.
• Word job ads carefully. Research shows language in job ads can impact who decides to apply. The Behavioural Insights Unit's guide on Behavioural Approaches to Increasing Workforce Diversity provides useful suggestions on how to use behavioural insights to attract a diverse range of candidates.

3. Edit and review
Just as we would expect candidates to proofread their resume and application, it is fundamental that you allow time to review each job ad before it is posted on I work for NSW. Errors in details and inconsistencies in how job adverts are structured and presented will deter talented candidates. During the editing and review process, ask the following questions:
Are all the details in the ad correct?
Is anything misleading?
Could we phrase anything more succinctly?
Is the job ad engaging?
Will it attract a wide, diverse pool of talent?
Have we run a spelling and grammar check?
Has a colleague read and provided feedback? Can you ask a colleague outside your agency to check your ad?
Is it formatted correctly?
Before you upload your ad to the I work for NSW live site, check how it looks on the I work for NSW testing site. Once you've proofread it on there you can upload it to the live site – but even then, check it again in case something has changed. You must be sure that what jobseekers see is what you intended. Once you're happy with the ad, THEN you can post it to external job boards like Seek, CareerOne, etc, if you want to. But double-check that it looks as good as it can on their sites, too!