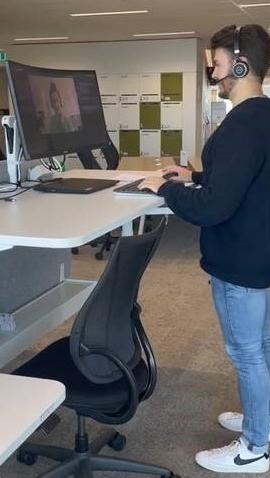 The Department of Planning, Industry and Environment (DPIE) is committed to creating a workplace where the health and wellbeing of its people are at the forefront. In 2019, DPIE began implementing its Connected Workplaces program. This included moving over 5,000 employees from 12 sites across Sydney into a purpose-built agile office in Parramatta, and consolidating some regional staff into a new hub in Orange. During this process, DPIE undertook extensive consultation with staff across the state to assess their needs in a new office. This process included running a workplace adjustment requirements survey. The survey results revealed that employees with disability were experiencing difficulties in having their need for workplace adjustments met.
The existing adjustment process was time-consuming and manual, lacked adequate record keeping, and felt undignified for employees requiring an adjustment. Employees would request adjustments through their managers, but they often didn't feel comfortable making the request, and there was uncertainty about the manager's role in approving and implementing adjustments. Further, it was also unclear who owned the ongoing support for adjustment processes, with support being delivered ad hoc by managers and HR teams. These barriers meant long delays before employees were able to perform effectively in their roles.
To address these issues, DPIE turned the process on its head. Its new streamlined process includes three main elements:
A Workplace Adjustment Guideline, informed by the Disability Employee Network, explains and streamlines the workplace adjustment process and outlines roles and responsibilities.
Employees use a confidential online portal to identify any temporary or permanent adjustments they require.
The portal generates a workplace adjustment passport once an employee's adjustments have been reviewed and approved.
The portal is managed by a centralised team, reducing the time between request and approval. This also makes it easier for employees to request adjustments, and for managers to implement them. The portal has improved record keeping and reporting on the types of adjustments in place. And it allows an approved adjustment to be carried over and applied to different roles within DPIE, without the need for a new request.
The workplace adjustment passport was officially launched on 3 December 2020, on the International Day of Persons with Disabilities, and the outcomes since its launch have been overwhelmingly positive. The passport ensures that everyone has a clear understanding and a record of approved adjustments, and reduces the need to reassess adjustments every time an employee changes jobs, relocates or gets a new manager.
"After meeting my manager and the team I got all my equipment I needed on Day 1… Wow, just wow. A formal process of workplace adjustment, that is conducted with dignity and efficiency." – Workplace adjustment portal and passport participant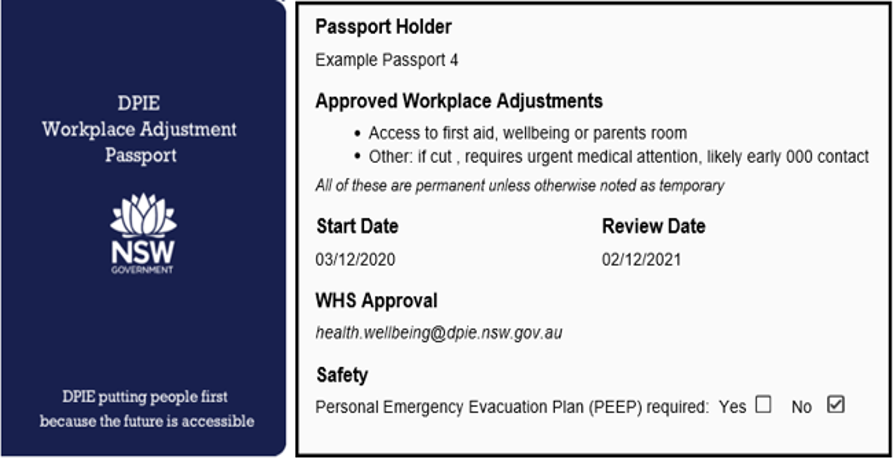 As of June 2021, there are 267 adjustments in the portal, allowing employees to have the equipment and support they need to participate and perform fully in their roles. The time it takes to implement an adjustment has reduced from a minimum of six to12 weeks to within five to 10 days in most cases. Additionally, the streamlined process has reduced the cost of adjustments by 78% from 2019–20 to 2020–21.
The streamlined process provides support and education for managers, improving their ability to manage employees with adjustments. It is now much easier for managers and employees to discuss adjustments, helping to create a more inclusive culture at DPIE.
DPIE is open to helping other NSW public sector agencies establish a similar portal and passport system, with the aim of shaping a consistent employee experience for people with disability across the sector.