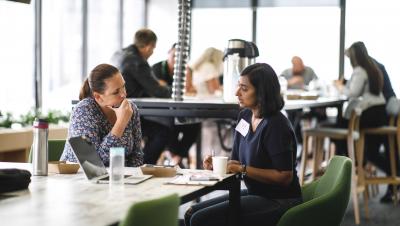 The NSW Department of Customer Service set up a recruitment accelerator to redesign the hiring process for staff and applicants. The accelerator is part of the department's effort to develop a world class, customer-centric government. The project was set up after an examination of the department's hiring processes showed that the recruitment journey for candidates and hiring managers was neither customer-centric nor world class.
Every stage of the recruitment process was redesigned, from the candidate's first interaction with the department, to their experience with hiring managers and the moment successful applicants start work.
"It's the first time while I've been Secretary that we've brought multiple people together from across the whole department to try and work on something that applies to everyone – and that everyone is frustrated by and thinks we can do better. I'm really excited that we're using our people to solve a challenge." – Secretary, Customer Service cluster
As a first step, 22 participants – including applicants and hiring managers – held a week-long human-centred design workshop that unpacked and analysed the end-to-end recruitment journey. After considering a wide variety of views, the team made 63 recommendations, which were categorised under four themes: People Care, Process, System and Attract.
Before the workshop, each area of the department had been wedded to its brand and reluctant to make significant changes to its recruitment processes. The workshop helped to break down these barriers and allowed the accelerator team to develop a roadmap for delivering the recommendations. The People Committee then endorsed the recommendations.
"I'm excited. We've got some great quick wins that we can really start moving forward with, and a wonderful vision of what the future can look like. Five days' worth of work with so many great minds has created something very, very special." – Chief People Officer, Department of Customer Service
Recognising the size of the task and its cross-department nature, a core project team, led by a director, was formed to deliver on the roadmap. The team was composed of people with a range of experiences, including experts in the current recruitment process and technical experts to advise on systems.
It also included a dedicated employee relations group member, who consulted with different diversity groups before offering advice on the inclusiveness of all work and tools produced. This ensured that tools were designed to take in the needs of diverse users.
Recognising that they needed a new way of working to quickly achieve the ambitious aims of the recruitment accelerator, the team also seconded an expert in Agile project management to improve their skills.
The team quickly implemented a candidate care survey that applicants were given during the recruitment process. The scores from this survey were used to measure the success of the team's products and inform future work. As work progressed, the satisfaction scores increased.
Favourable score
Baseline
Current
Candidate experience score
47%
(n=13)
58%
(n=438)
Consistent communication and information through the process
21%
(n=13)
56%
(n=438)
Timeliness of feedback to candidates
14%
(n=13)
60%
(n=72)
Quality of feedback
25%
(n=13)
62%
(n=220)
Agile methodology meant the team aimed to release new products every two weeks, launching them when they were an 80 per cent viable product and then continuously refining them. Members used Microsoft Teams to showcase new products and teach stakeholders how they worked. This allowed users to give feedback in real time and the team to quickly refine products that had already been launched.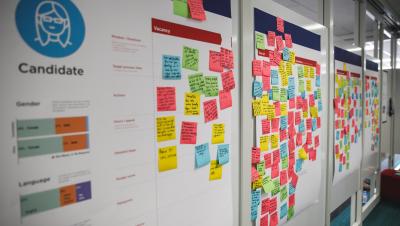 A one-stop shop was built for recruitment needs, using standard corporate tools such as SharePoint wherever possible. A key element of the project was the Circle Back initiative, to send acknowledgement emails to candidates at every stage of the recruitment process. This apparently simple process is revolutionary. Sending candidates timely communications about the recruitment process improves their experience, and reduces the number of questions they ask.
Under Circle Back, everyone interviewed will be contacted via phone and given an opportunity to receive feedback on their application and interview. The initiative led to the need for carefully considered system changes and improved staff training. This ensures that all internal stakeholders know how to use the system, and are aware that the rights of the candidate came first.
Another initiative of the accelerator was improving the visibility of mobility within the department. Previously, identifying internal opportunities was difficult, while teams looking for new talent couldn't explore options with employees seeking the next step in their career. The accelerator team built an internal centralised SharePoint page that is available to all hiring managers, making it easy to search existing talent pools. The internal rules in relation to mobility have also been clarified and codified. In the past, uncertainty about the rules was a barrier to internal mobility. Now, a new standard has clarified the process for the hiring manager and the manager of the team an employee is leaving.
The rules of recruitment have also been clarified for all parties. The team developed a uniform responsibility accountable, consulted, informed (RACI) matrix that holds everyone in the recruitment process accountable. This incorporates minimum time frames for the recruitment process, which are compared against the department's key performance indicators.
Finally, the team rolled out training to help hiring managers feel more confident and to communicate more thoughtfully with candidates who indicate they have a disability. This work complements the team's other changes and allows people to see tangible progress towards the Premier's Priority of having a world class public service.
"It has really uncovered just how painful the recruitment process is. If we're serious about becoming the world's most customer-centric government, we need to do something about recruitment. It's our very first impression with someone who's going to join our organisation. We need to put our best foot forward." – (former) Principal, Customer Experience Unit, NSW Department of Customer Service
The next step is to roll out Reejig, a cross-government product that can survey all talent available in the sector and enable dynamic mobility sourcing. This contrasts with the traditional recruitment model of attracting many people to a small number of openings. Reejig will help the department move to a many-to-many system in which relationships with internal and external candidates are already in place, and candidates can be brought in quickly through an expedited recruitment process.
The accelerator team will also focus on the onboarding element, so that it lives up to the expectations set during the recruitment process. The team is planning another deep dive for this next stage.
The team hopes to leverage this work to design documentation, processes and products that are transferable across government, to help all government agencies become world class in the recruitment space.