The objective of this step is iterate the Strategy Map by developing the strategies for how the agency will realise its purpose and outcomes.
Essential strategic plans and priorities
Achieving the agency's purpose, public value and operational efficiency outcomes requires the executive to focus on selected plans and priorities, which can include implementation plans, and key strategies around risk, assets and people. It requires senior leaders to make choices and to prioritise and understand what drives these processes. Strategies for the strategic plans and priorities will address underlying issues and also realign those processes to address the critical objectives.
Required organisational capability
Organisational capability strategies can help the agency:
Understand its future and ongoing renewal
Address the gap between its current internal enablers and its purpose and objectives
Develop the leadership capabilities that will help it lead change, make the strategy relevant to customers, stakeholders and front line staff and drive ongoing renewal.
This step focuses on drafting the remaining two layers of the strategy map which will be iterated and tested in subsequent steps.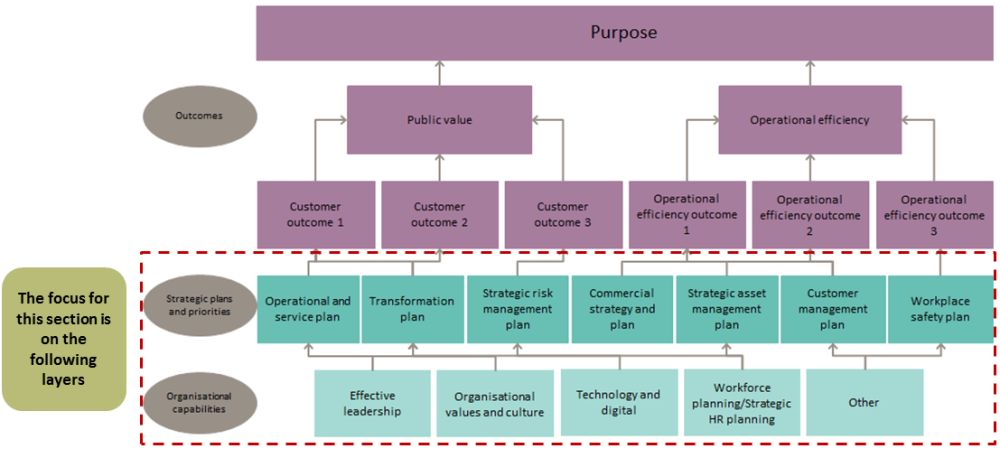 Define strategic plans and priorities
In this step, consider how the agency plans to leverage its strategic plans and priorities to achieve outcomes. All agencies have internal processes that underpin the services they deliver. The strategic plans and priorities perspective focuses on the critical organisational processes, plans and activities required to realise the agency's public value and operational efficiency objectives, and achieve its purpose. Articulating these processes requires senior leaders to make choices and to prioritise the activities that will have the greatest impact.
The strategic plans and priorities perspective is current state focused, and typically includes the agency's customer products, capital assets, and commercial and risk processes. Think of these as enablers to achieving the agency's objectives and overarching purpose. Selecting certain strategic plans and priorities over others is where management intervention is possible to influence customer and efficiency outcomes.
To articulate the agency's strategic plans and priorities, consider the public value/customer and operational efficiency outcomes and prioritise the critical processes, plans and activities underpinning these outcomes.
Evaluate the current state of each process, plan and activity and identify those that need further development, those that should be enhanced or expanded, and those that are critical and should be prioritised above others.
For the public value and customer outcomes, consider the processes, systems, assets and people that can make most impact. Most agencies will need to look at their people/customer strategies and many with regular interaction with customers and the community may need to look at their digital and/or technology strategies.
For the operational efficiency outcomes, address the research, innovation and development processes to ensure they will make the most impact on the desired customer and operational efficiency outcomes. Agencies can look to transformation strategies, operational and service strategies and strategic asset strategies. Capital intensive agencies will need to focus on how they extract value from assets to achieve objectives and therefore prioritise strategies that will achieve these outcomes.
At later stages you will need to develop initiatives to execute these strategies and include selected parts of the organisation in their achievement.
Once the strategic plans and priorities have been identified, assess them closely:
Analyse the key drivers that impact or improve the strategic plans and priorities at the agency level.

How do those drivers obstruct or support that process/plan/activity to achieve the purpose, public value and operational efficiency outcomes? For example, if People is a key enabler, assess those factors that drive cost or productivity or customer experience.

What needs to be done to address gaps or blockers and leverage existing strengths in each process, plan and priority?
Develop the approach where each enabler can be improved or strengthened and show its linkage to other enablers and to the purpose and outcomes for the agency.
Consider the examples below but refine to suit your needs and add the correct metric.
Example operational and service strategies
Anticipate future needs
Develop effective products
Manage portfolio for positioning and profitability
Extend product into markets
Extend through collaboration
Reduce development cycle time
Reduce development cost
Faster launch
Effective production
Lower cost to serve/lower cost of producing services
Enhance quality and reduce rework.
Example customer management strategies
Understand customer segments/types of needs
Provide premium service per customer type
Provide service excellence
Create long-term relationships
Acquire new customers
Effective brand and recognition commitment
Communicate value proposition
Contract management of commissioned services
Effective management of partners.
Example commercial strategies
Reduce Cash Expenses
Eliminate defects
Lower direct and indirect cost
Manage capacity from existing assets
Make capital investments
Find new sources of revenue including user pays, demand management, new clients
Improve performance of outsourcing partners
Lower cost of quality
Improve process responsiveness
Improve capex efficiency.
Example workplace safety strategies
Product performance
Reduction of misuse use
Waste reduction
Resource consumption
Reduce product –related injury
Reduce exposure
Provide assistance
Regulatory compliance
Work-life balance
Safe equipment usage
Safety culture development.
Example strategic risk management strategies
Manage operating safety risk
Manage technical risk
Manage project risk
Build strong risk culture.
Example strategic asset management strategies
Lower direct and indirect cost
Utilise financial and physical assets more efficiently to reduce working and fixed capital
Capital management policies and business case approaches
Manage capacity from existing assets
Make incremental investments to eliminate bottlenecks
Lower cost of ownership of assets
Improve working capital efficiency.
Example transformation strategies
Evolve to service-focused organisation
Develop customer-focused staff and management
Make innovation core business
Invest in infrastructure and integrated technology
Solve technical competencies gap
Create a performance driven culture
Enable timely, accurate and reliable information
Create collaborative relationships
Balance capacity and demand for all services.
Define organisational capabilities
The organisational capability perspective focuses the agency's resources to meet customer and efficiency outcomes. Organisational capability refers to a core unit of competence (including skill, knowledge, behavioural, cultural, system and data) that helps an agency develop its organisational functions to achieve strategic goals, meet client and community expectations and comply with government requirements and policy objectives.
Organisational capability is more future focused. It refers to the areas of development and growth required for the organisation to achieve its customer and operational efficiency outcomes and to continue to transform. The organisational capabilities are also enabling strategies, and support the agency to achieve its goals.
To define strategies for the organisational capability perspective, consider the following prompts:
What key capabilities will be needed to realise the public value and operational efficiency outcomes?
What investments will we need to make in our people and organisational capabilities in order to succeed with our strategic plans and priorities?
How do we enable ourselves to grow and change, and meet ongoing demands?
How can we ensure leaders are effective and inspire direction and purpose, and lead the organisation to achieve its strategic imperatives?
What systems, technology, infrastructure etc. will be critical to our success?
Populate strategy map
When you have clarified the agency's purpose, identified the desirable outcomes and strategies to achieve these outcomes, create the first draft of the strategy map. Include the cause and effect linkages between the strategies and the outcomes to visually demonstrate how the strategies will contribute to achieving the agency's desired outcomes and purpose. Creating the first draft of the strategy map is an iterative process and may require several attempts.
This perspective includes strategies related to the areas of growth and development required for the agency to achieve its goals.
Example workforce planning/Strategic HR strategies
Eliminate gaps between available and required competencies in strategic job families
Recruit and retain the most talented individuals
Build staff with broad set of skills useful for customer service
Build staff with data mining capabilities
Safe, capable, motivated employees
Effective management at all levels of the organisation
Build a learning organisation
Create a culture of respect, service and teamwork.
The PSC has the following resources to support agencies:
a workforce planning framework to assist agencies to develop their strategic workforce plans
a talent management framework for undertaking talent reviews

Example effective leadership strategies
Develop select core values and the vision needed to execute the strategy
Build a team of leaders able to mobilize the organisation towards its strategy
Ensure the alignment of goals and incentives with the strategy at all organisational levels
Ensure knowledge sharing on the execution of the strategy
Lead change
Set expectations and hold teams accountable
Promote a sense of purpose.
The "Actions with Impact" module is included in this guide and covers leadership actions and behaviours that can enhance and compromise strategy.
Example organisational values and culture strategies
Integrity, trust, service and accountability
Commit to inclusive and equal workplaces
Actively seek out new perspectives and ideas
Prioritise customer centricity
Encourage team oriented environment
Leverage strengths and overcome differences to produce optimal results
Value innovation
Safe workplaces and improved employee wellbeing
Empowered staff.
The Government Sector Employment Act 2013 establishes a legal requirement for government sector employees to act ethically and in the public interest. To help employees understand their obligations, the PSC has developed the Behaving Ethically guide.